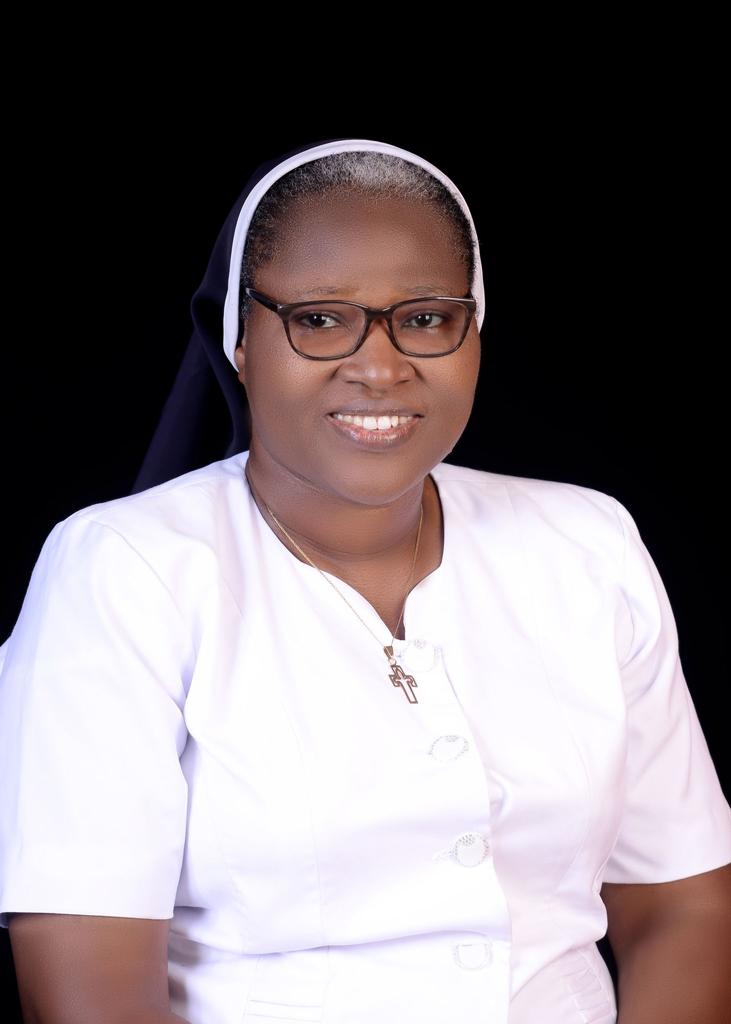 Welcome to Louisville Girls Secondary School Abuja GROOMING PRINCIPLED WOMEN OF FAITH AND INTEGRITY
In pursuance of its founder's dream, the Sisters of St. Louis continued in the establishment of schools and training children to become better citizens of their nation. We encourage all our students to achieve their potential, and we support and nurture them in the pursuit of this goal, grooming them to become principled women of faith and integrity.
I hope that our website provides you with a positive and lasting impression of our school. Please feel free to contact the school if you require any additional information.
Rev. Sr. Orunmoluyi Veronica, SSL.
Principal.
Our Mission Statement
THOUGHT FOR 1ST TERM 2022/2023
THEME FOR THE TERM: Happy is the man who walks in the counsel of the wicked, nor stands in the way of sinners, nor sits in the seat of the scoffers. But his delight is in the law of the lord, and in his law he meditates day and night. He is like a tree planted by streams of water, that yields its fruit in its season, and its leaf does not wither. In all that he does, he prospers.The wicked will not stand in the judgement,nor sinners in the congregation of the righteous; for the Lord knows the way ofthe righteous, but the way of the wicked will perish (PSALM 1:1-6)
"And in praying do not heap up empty phrases as the Gentiles do; for they think that they will be heard for their many words.
Do not be like them, for your Father knows what you need before you ask him.
Pray then like this: Our Father who art in heaven, hallowed be Thy Name. Thy kingdom come, Thy will be done, on earth as it is in heaven. Give us this day our daily bread; and forgive us our trespasses, as we also have forgiven those who trespassed against us; and lead us not into temptation, but deliver us from evil.
MATT 6: 7-13
Psalm 1:1
Happy are you for choosing the right path.
Instructor: Sr. Veronica Orunmoloyi SSL
12th -16th, Sept 2022
Psalm 1:2
"Delighting in and meditating on the lawof the Lord
."

Instructor: Mr Oduwole Opeyemi

19th September - 23rd September,2022
Psalm 1:3
The fruitfulness of the one who chooses the right path.
Instructor: Mrs Areo Dorcas
26th - 30th September, 2022
Psalm 1:4-6
"The ways of the ungodly are like chaff and they lead to doom."
Instructor: Mrs. Atteh O.A
16th -20th May,2022
Proverbs 10:28
"The hope of the Righteous will be gladness but the expectation of the wicked will perish."
Instructor: Mrs. Patience Oladipo
11th - 14th Oct, 2022
Proverbs 14:12
There is a way which seems right to a Man, but its end is the way of death.
Instructor: Miss Onwe Refine
17th -21th, October 2022
Proverbs 14:14
A Perverse man will be filled with the fruit of his ways and a good man with the fruits of his deeds .
Instructor: Mrs Olabode Oluwakemi
24th -28th, October 2022
Proverbs 14:16
A wise man is cautious and turns away from evil, but a fool throws off restraint and is careless.
Instructor: Mr. Jude Ezeh
7th -11th, November 2022
RECAP
THEME FOR THE TERM.
Instructor: Sr. Jumoke Akinwumi
12th -16th, December 2022
Our Admission
THANK YOU FOR YOUR INTEREST!
Welcome to Louisville Girls Secondary School! If you are ready to be challenged academically, inspired by supportive classmates and motivated by a dedicated teacher who encourages you to be your best self, Louisville is the place for you. When you graduate from Louisville, you will join a network of accomplished women who strive for academic excellence while growing in confidence, integrity, and faith.
Applying to Louisville Girls Secondary School is a simple process, and we are here to help every step of the way. We invite you to see our page on how to apply.
Read More
WHY CHOOSE US
We groom principled Women of Faith and Integrity.
Internationally Recognised
A wholly Nigerian school with global appeal with many foreign accredited examinations and partnerships.
Overseas Study Opportunities
Our school offers international exams such as IGCSE, IELTS, SAT and so on for our students.
Strong Academic Curriculum
We offer a rich and diverse curriculum of both Nigerian and British origin which enhances balanced student life.
Delicious Meals
The nutrition of our students is at the heart of their 5 meals course a day with many local and international dishes.

Highly Qualified Teachers
Our teachers are professionally qualified and remain one of the best sources of inspiration for this community.
Modern Facilities
We boast of state of the art visual technology in teaching and learning, ultra modern sporting facilities and cutting edge security.
OVER
50
Robust co-curricular activities
OVER
1400
Students Enrolled to Date
Our Management Team Members
KNOW ABOUT OUR TEAM
Our School
We groom principled Women of Faith and Integrity.
Managed by the Sisters of St. Louis
Catholic post-primary school for girls managed by the sisters of St.Louis Nigeria province.
Cutting Edge ICT
At Louisville, we are at the forefront of providing students with exposure to cutting edge ICT.
Serene Environment
Our environment is serene and conducive for learning, far removed from the attendant noise of the metropolis.
We realise how important it is to choosethe right school for your child Feel free to
get in touch with us
We appreciate feedback from parents, students, well-wishers and visitors on our website.
Contact Us
Feel free to contact us if you have any questions