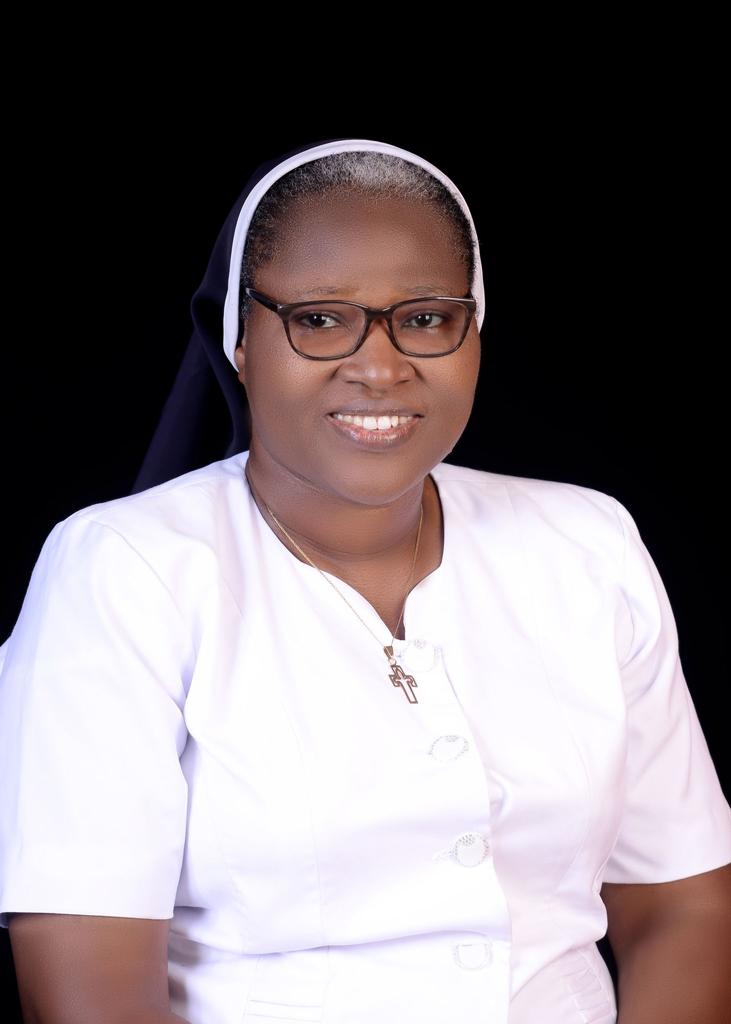 Welcome to Louisville Girls Secondary School Abuja GROOMING PRINCIPLED WOMEN OF FAITH AND INTEGRITY
In pursuance of its founder's dream, the Sisters of St. Louis continued in the establishment of schools and training children to become better citizens of their nation. We encourage all our students to achieve their potential, and we support and nurture them in the pursuit of this goal, grooming them to become principled women of faith and integrity.
I hope that our website provides you with a positive and lasting impression of our school. Please feel free to contact the school if you require any additional information.
Rev. Sr. Orunmoluyi Veronica, SSL.
Principal.
Our Mission Statement
THOUGHT FOR 1ST TERM 2023/2024
THEME FOR THE TERM:
"Doing the right thing is a test of your moral character; it is not a popular way but it is the only way to go"...adapted by Sr. Veronica Orunmoluyi SSL
We must lean on our origins; keep a love for our tradition so that the St. Louis family remains itself, something distinct in the mass of the nations.
-Abbe Louis Bautain
Instructor

:

Sr. Veronica Orunmoloyi SSL


11th -15th, Sept 2023
Respect for ourselves guides our morals; respect for others guides our manners.
-Laurence Sterne
Instructors

:

Mrs. Audu Grace - Miss Okanya Nwodo - Miss Ojika Cheryl
18th September - 22rd September,2023
Do not be deceived. Bad company corrupts good morals.
-Anonymous
Instructors

:
Mr. Oluwagbemi Benjamin - Miss. Ogunleye Esther - Miss. Mathew Emily
25th - 29th September, 2023
Always get up and go to bed at the same time. When one lives without discipline, one lives in disorder, as soon as you wake, give your first thought to the Lord, and offer him the first fruit of your day.
-Louise Humann
Instructors:
Sr. Jumoke Akinwumi-Miss Joseph Emmanuella-Miss Nwangwu Mesoma

3rd -6th October,2023
Lack of circumspection is as dangerous to a girl as lack of virtue…….
-Louise Humann

Instructors:
Mr. Akpan Emmanuel - Miss Okor Zina - Miss Ogonna Chizoba
9th - 13th Oct, 2023
Fly from bad companions as from the bite of the most poisonous snake.
St. Don Bosco


Instructors:

Mrs Onoja Vivian - Miss Okonkwo Immaculate - Miss Okloho Trinity

16th -20th, October 2023
MID-TERM BREAK
MID-TERM BREAK
23rd -27th, October 2023
This above all; To thine own self be true
William Shakespare



Instructors:



Mr. Francis Oluwapelumi - Miss Ngwu Ngozi - Miss Orjiako Kareen
30 Oct- 3 November, 2023.
Vow to be valiant; determine to be sincere; aspire to be attuned.
-William Arthur Ward
Instructors:
Mrs. Olabode Oluwakemi - Miss Igwe Omoke Princess- Miss Agbo Victoria
6th -10th, November 2023
Excellence can be attained if you care more than others think is wise, risk more than others think is safe, dream more than others think is practical and expect more than others think is possible.-Anonymous
Instructors:

Mrs. Fasegha Atinuke - Miss Oseghale Omon - Miss Bakare Abisola

13th -17th, November 2023.
Knowledge will give you power, but character respect.
-Bruce Lee

Instructors:

Mr. Okafor Tochukwu - Miss Anodere Amarachi - Miss Okereke Chisom
20th-24th November 2023
Watch over your heart unceasingly so that it may never sin against love.-Bishop Louis Colmar

Instructors:

Sr. Anthonia Eneanya - Miss Ifesie Chidinma - Miss Ndiogu Tovia
27th November -1st December 2023
What we are is a gift to us, what we become is our gift to God.
-Eleanor Powell

Instructors:

Mrs. Vincent Abosede - Miss Kadala Ishaku Favour -Miss Adesanya Demilayo
4th -8th, December 2023
Our Admission
THANK YOU FOR YOUR INTEREST!
Welcome to Louisville Girls Secondary School! If you are ready to be challenged academically, inspired by supportive classmates and motivated by a dedicated teacher who encourages you to be your best self, Louisville is the place for you. When you graduate from Louisville, you will join a network of accomplished women who strive for academic excellence while growing in confidence, integrity, and faith.
Applying to Louisville Girls Secondary School is a simple process, and we are here to help every step of the way. We invite you to see our page on how to apply.
Read More
2023 TOP JAMB/UTME SCORES
WHY CHOOSE US
We groom principled Women of Faith and Integrity.
Internationally Recognised
A wholly Nigerian school with global appeal with many foreign accredited examinations and partnerships.
Overseas Study Opportunities
Our school offers international exams such as IGCSE, IELTS, SAT and so on for our students.
Strong Academic Curriculum
We offer a rich and diverse curriculum of both Nigerian and British origin which enhances balanced student life.
Delicious Meals
The nutrition of our students is at the heart of their 5 meals course a day with many local and international dishes.

Highly Qualified Teachers
Our teachers are professionally qualified and remain one of the best sources of inspiration for this community.
Modern Facilities
We boast of state of the art visual technology in teaching and learning, ultra modern sporting facilities and cutting edge security.
OVER
50
Robust co-curricular activities
OVER
1400
Students Enrolled to Date
Our Management Team Members
KNOW ABOUT OUR TEAM
Our School
We groom principled Women of Faith and Integrity.
Managed by the Sisters of St. Louis
Catholic post-primary school for girls managed by the sisters of St.Louis Nigeria province.
Cutting Edge ICT
At Louisville, we are at the forefront of providing students with exposure to cutting edge ICT.
Serene Environment
Our environment is serene and conducive for learning, far removed from the attendant noise of the metropolis.
We realise how important it is to choosethe right school for your child Feel free to
get in touch with us
We appreciate feedback from parents, students, well-wishers and visitors on our website.
Contact Us
Feel free to contact us if you have any questions